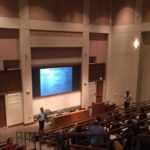 Thank you to all who made the Inaugural Pannexin Symposium a success!
Description:  Plasma membrane channels on cell surfaces play a key role in inter-cellular communication between cells within a tissue and beyond. Pannexin channels have recently been identified to play varied roles in such communication through the release purines (such as ATP) and other smaller molecules that in turn has been linked to inflammation, apoptotic cell clearance, hypertension, metabolic disorders, and cancer. This symposium will cover some of the recent and exciting developments in the field of pannexin channels (and related channels).
J. Kevin Foskett – Perelman School of Medicine/ University of Pennsylvania
Douglas R. Green – St. Jude Children's Research Hospital
Dale W. Laird – Schulick Medicine & Dentistry / Western University
Simon Robson – Dana-Farber / Harvard Cancer Center
Pinn Hall Conference Center
University of Virginia
Charlottesville, VA
Click here for more information….